Trigger warning: This post may be triggering to some folx as it discusses the emotional and physical toll happening on our students and our profession. I hope you read on.
A student asked to speak with me the other day. They said things weren't going so well. They didn't have to say a word. Their eyes told the story of someone who had been going through a lot lately. They shared and I listened while resisting every urge to cry along with them. How has it come to this I thought? How have so many of life's weights been placed on a student who deserves to enjoy these years without worry, fear, or doubt?
While they spoke, it became known that these feelings of sadness and dread have been building up for a couple of years already. It struck me a bit odd as this student comes across as one of the most well liked, bright, and optimistic persons. If they were struggling, then how many more have not found the courage to come forward? My mind raced around how best to support them in the moment, but then moved to thoughts of what needs to happen on the macro level of our classrooms.
Despite some training, my mental health first aid kit is still only partially stocked, and unless additional social workers can be added to our school, I fear things will only be getting worse.  If it is happening in one school, then it is probably happening in many others. Notwithstanding the already existing immense work loads placed on centralized caregivers in school boards, it does not appear that supply will meet demand any time soon.
I guess that my best move for this particular person will be to check in with them a little more frequently, contact family to construct a cohesive support plan, and to recommend seeking some help from a social worker if at all possible. I am also going to build in some wins for them throughout the week. These could be a few more affirmations or intentional opportunities to have fun in their day.  Maybe this approach could help in supporting staff as well? Read on.
They didn't have to say a word. The eyes told a story of someone who has been crying a lot lately. What happened before coming to school? How were they going to make it through another day when the sound of fast paced walks toward their door meant another part of the day, intended to plan and organize, was going to be co-opted again. How can this continue to happen when things are supposed to be safer, better, and back to normaler? Cue the tears. Cue the sadness. Cue the confusion. It's hard to hide the stress or frustration. With all of that to manage, anger is never far behind. So when someone asks what is causing the tears specifically, the answer is nothing and everything at the same time.
Nothing because there is nothing we can do about what is happening other than mask up, make sure the kleenex box is full, and brave out the current chaos of each day. Everything because the number of issues provide more than enough straws to collapse every camel's back. Mixed messages, inaction, anti-vaxxers, non-maskers, insane rates of infection, lost preps, fatigue, and having to complete the same system work with less time due to time that has been 'liberated' from one's daily schedule.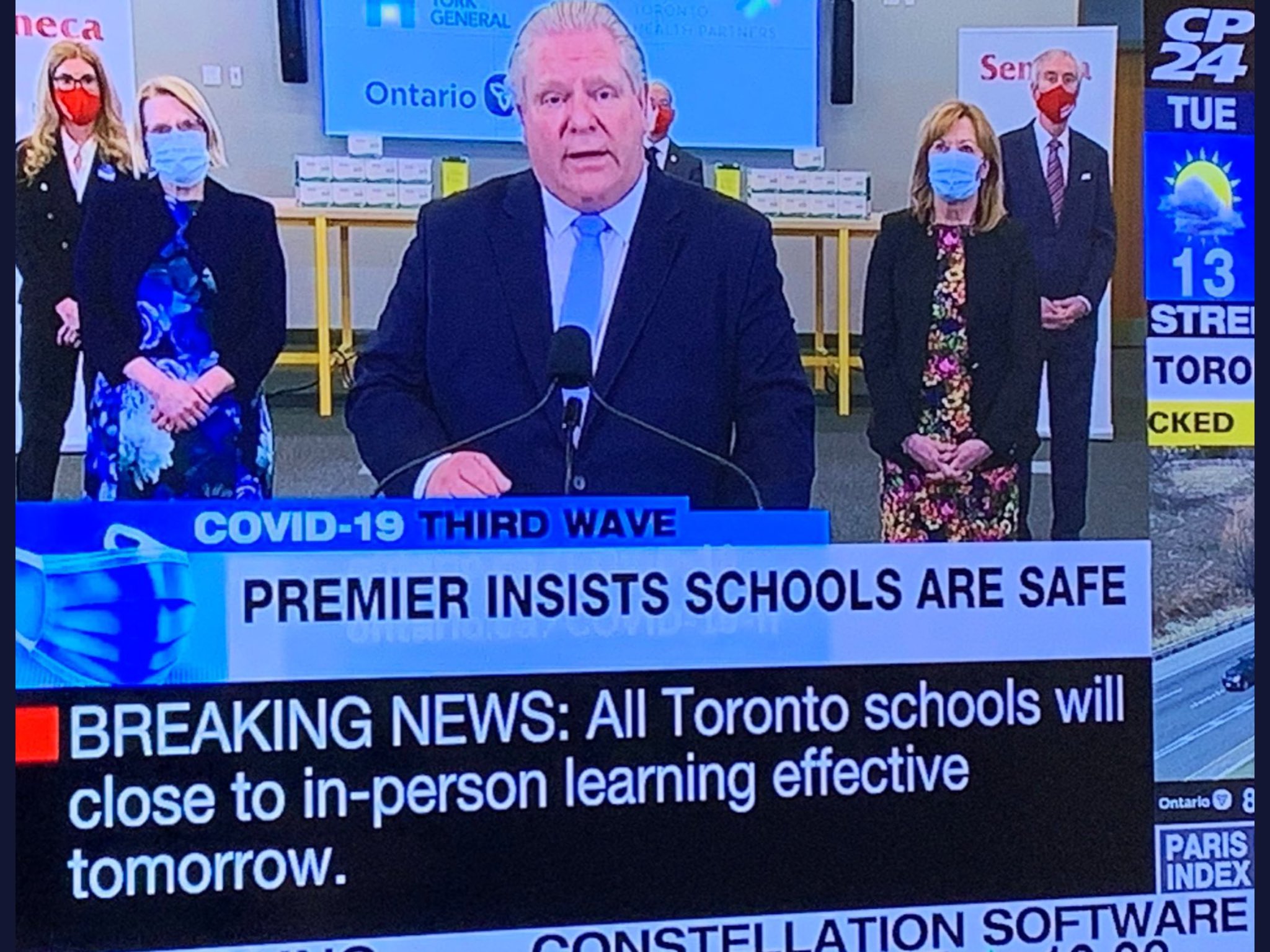 I looked into the mirror. My eyes were dull, glassy, and dry. Thankful that another week has passed where I did not have to be out of the classroom. Thankful that I did not have to isolate. Relieved that time outside of school meant a chance to disconnect and recharge.
Although there is no single thing to attribute this current state. It could be because of the daily dread built up from what is happening in schools right now. It has gone far beyond any occasional days when OT jobs went unfilled to a sadly predicatable and unprecedented time in our profession. When was the last time you ever heard of 9 unfilled OTs at one school? Last week comes to mind.
If it hasn't been mentioned before, the folx caring for this province's most precious resources are having a tough time and are being pushed to the brink of exhaustion and anxiety. It seems that once again, pontificating politicians have put their heads in the sand when it comes to equipping educators to meet the realities of the day with the resources they need.
Let's start by having more teachers available to cover the amounts of educators having to take time to quarantine due to illness/exposure to COVID19 or to care for an infected family member in the same home. As we enter the final months of the school year I am not feeling super confident that things will change and that has me worried about my own energy and emotional levels.
Despite every educator's individual efforts, 'things ain't goin' so good'. No amounts of extra time or out of pocket expenses are going to fix what is happening. We need personal supports for students and staff more than ever not affirmative memos and lipservice from elected/board leaders. Help.