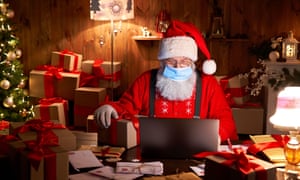 Due to the Covid pandemic, my partner and I have been thinking about how we will handle Christmas. We usually have several Christmas dinners with "the relatives" and then a dinner in our home. We have spoken to various cousins and siblings and have decided as a collective that Christmas dinners will be cancelled. Due to this, I made a point of sending Holiday cards to many friends and family members to spread some needed Holiday cheer.
Before cancelling Christmas (like the Grinch), we considered our daily contacts.
Too many contacts to count
My partner works for the Red Cross and is in contact with several people a week. My adult children have their own bubbles with many contacts. My son, who is a Bell Canada technician, is in contact with many people every day as he enters their homes to install telephone and internet services. To get an accurate picture, we'd need an algorithm to calculate the true contact numbers.
In my family, I am the person who has the most social contacts. I currently teach in a school with 4 cases of Covid-19. My direct contacts are 5 students who's families also have their own bubbles and multiple contacts. I am personally exposed to over 400 people a day, regardless of how "socially distanced" we are, be it 6 inches or 6 feet!  
I wonder about the efficacy of social distancing as the Los Angeles Times recently published, "Infected after 5 minutes, from 20 feet away: South Korea study shows coronavirus' spread indoors".
Social distancing at school
In considering the role of social distancing, I ponder my own workplace environment. In my school, students are crammed into their classrooms along with winter coats and boots (i.e. these must stay in classrooms.) Social distancing in schools is a great challenge as it is against children's natures to be distant from each other. As I am on duty at recess, I often wonder how students can social distance while wrestling or playing tag. It's hard to prevent this play as this is how children play.
Almost every person in my school is wearing a mask. Teachers are also wearing visors. I find wearing visors challenging as it's hard to see through the visor with glasses. I also have discovered that I cannot "raise my voice" as the sound does not escape my visor and goes straight to my ears.
In considering my family's social bubbles within bubbles within bubbles, a Covid case is destined to impact at least one person. And with this we decided to cancel all holiday events. Due to the complexity of these bubbles, what we really need is an algorithm to calculate the contact numbers for each person!
Missing family, friends, and food
I spoke to my partner about all the things we will miss. I will miss "Japanese Christmas" dinner with turkey gravy served on rice and the rainbow Jello dessert my partners' cousins make. I will definitely miss sushi appetizers.
My partner is an excellent cook, and his turkey dinners are amazing. I also realize that there are no tiny turkeys that come in serving sizes for two. My children will miss the dinner with its multiple sides and enough gravy for all.
Delivered, Christmas Dinner in a Box
So we would still have a Christmas dinner, we decided that we would make Christmas dinner and deliver it to my children, my mother, and some cousins. I'll also make my famous carrot cake, which freezes very well.
While we deliver the "Christmas Dinner in a Box", we will exchange and unwrap gifts out of doors. It won't be like a "regular" Christmas but we will have some time, socially distanced outside, to visit.
Happy social distanced holidays
I know that if we are all careful with our social contacts over the holiday break, we will not have any regrets as we did everything we could to limit the spread of Coivid-19.
I leave you with a Covid Christmas – Festive Medley for 2020 parody of Carol of the Bells, Jingle Bells, Frosty & more It will cheer you up, for sure!
All the best to you and your friends and families,
Collaboratively Yours,
Deb Weston, PhD
PS: I wrote this blog as a person who is a Unitarian and celebrates secular Christmas. I considered leaving out the word "Christmas" to make this blog more inclusive to those who are not Christian. Instead, I wish all readers a peaceful and healthy winter holiday season.
More articles on the 2020m winter holidays during the pandemic
Nearly one-third of Canadians plan holiday gatherings despite pandemic restrictions: poll
Santa Claus is coming to town. Try not to infect him.
T'is the season to be jolly careful